Delta Minerals is striving for a sustainable development and to refine the projects in a responsible way in tune with other interests in our surroundings. Our goal is to improve the environment and social conditions while remaining competitive with sound ethical values.

Delta Minerals strives to protect health and safety of our employees, local communities and others parties that to a various extent are impacted by the company activities. We should to the greatest possible extent hire people from the areas where we operate.

We believe that a part of our success depends on our ability to create and maintain relationships at local, regional and national levels. This can only be achieved if we, as a company, are engaged in the social development and act as a part of it.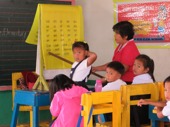 Delta Minerals also supports the local elementary school
Paruddun Sur with building material and work. Through this support the school now has a new school yard. In April 2016 Delta Minerals received the prestigious award "Best CSR project of the year 2016" from Nordic Business Council of the Philippines.