This webpage is a translated summary of Delta Mineral's Swedish homepage. In case of differences the Swedish text is the valid one.
Welcome to Delta Minerals
Delta Minerals (Delta Environmental Projects AB) is a Swedish company (aktiebolag) that owns the rights to pursue environmental projects in the Philippines, beneficial for the regional environment. Flooding occurs frequently, especially during the monsoon season, which seriously impacts the local population causing deaths and major property damages due to the accumulated eroded sand. Removal of the affluent river material has a positive impact on the environment and diminishes the risks of flooding. The river material contains minerals of various kinds. The company focusses on filling sand (reclamation sand), construction sand, magnetite and slime. The slime can amongst other things be used for brick production.

The river material is transported to a production plant in Aparri, where sand and iron ore are separated and construction materials are produced. The company is planning 3 production units with a total capacity of one million ton per year. The total mineral resources that the company owns rights for is approximately two billion ton. The magnetite is used for iron production mainly in China. Filling sand (reclamation sand) will primarily be sold to Singapore, Hong Kong, Japan and Taiwan. Building materials and bricks are produced mainly for the local market.
Slideshow from the plant and activities over the years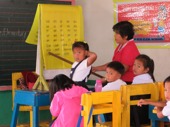 Delta Minerals also supports the local elementary school
Paruddun Sur with building material and work. Through this support the school now has a new school yard. In April 2016 Delta Minerals received the prestigious award "Best CSR project of the year 2016" from Nordic Business Council of the Philippines.
Hexapod's deliveries to DPHW ready to be set up